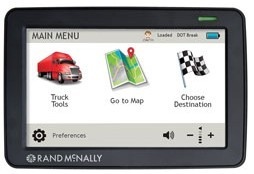 This page: 5" large, Color Screen
or

Expanded GPS info is at THIS LINK
New or Enhanced Features of the 530-LM model:


2016 Latest released maps and enhanced truck routing.

Slimmer, sleek casing, yet tough for the truck environment

FASTER route calculations, searches, and operation

New "Ice" and "Carbon" user interface options in addition to "Classic."

New proprietary "color-saturated" icons making things easier to see "at a glance!"

Rand McNally Enhanced LANE GUIDANCE technology shows the best lanes in complex highway and turning situations

IMPROVED map appearance showing more street names surrounding your location

TOLL COST estimates now shown while planning your route

Greatly INCREASED PHOTOREALISTIC JUNCTION VIEWS during road transitions and turns

Enhanced ROAD AND AREA AVOIDANCE technology allowing you to block out roads or entire areas easily

Enhanced MULTI-STOP trip planning showing upcoming legs and zoomable "whole-tip" or single-leg segments

New COMMERICAL BUS routing mode in addition to the Truck and Car modes

Automatic U.S. or METRIC conversion units depending on whether you are currently in the U.S. or Canada

SEARCH feature added to the on-board address book
Additional Features:

Fuel Purchase Log entry screen and state-by-state fuel purchases report.

WiFi enabled. (connect to nearby WiFi and cell phone hotspots for traffic, fuel prices, and weather)

Record exact routes taken and view them back on the map (breadcrumb trails)

Assignable "hot button quick-press" feature on the power button. Assign a shortcut to your most-used function.

Current mile marker shown

Virtual dashboard shows new key info (speed, distance, altitude, ETA, more)

Real-time traffic compatible (* requires enabling the WiFi connection and a subscription through the TND Dock)

Free real-time fuel prices (* requires enabling the WiFi connection)

Enhanced warnings: includes sharp curves, steep hills, state borders, weigh stations, speed limits