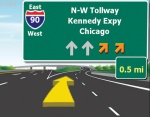 (RV Tools Screen ) (Junction View Screen)



From the maker of the number #1 Road Atlas comes the RVND 7730 GPS for RV'ers.

Map and Routing Features:



Latest released maps with RV-specific routing for U.S. and Canada.


11 Different RV style selections for proper routing (Class A, B, C, 5th Wheel and more) (includes propane restricted tunnels and bridges)


Enter destinations by address, city, intersection, lat/long, touch on map, or zip code


Multiple point routing (able to enter multiple stops) with "route optimization"


NEW - use the online

Rand Tripmaker

site to preplan your adventure on your computer and then send the route to you GPS when ready!


NEW - toll cost feature lets you compare route toll costs


NEW Advanced Lane Guidance shows a 3D blowup of an upcoming shift in the highway and which lane to use (thousands of new junction views added!)


Speed limits displayed on-screen while driving


WiFi enabled. (can connect to nearby WiFi hotspots including drivers with cell phones and MiFi's with the WiFi hotspot broadcasting feature and associated data plan)


Life weather and fuel prices on screen (when connected to a WifI source)


Access "Traffic Anywhere" when WiFi source enabled


Road construction updates show major ongoing projects & allow you to plan around projects


Predictive traffic shows typical traffic patterns in cities and offers routing suggestions based on time of day


"Pop-out Exit Guide" displays the businesses and services at upcoming exits on your route!


BIG Buttons and and easy interface to learn.


Millions of Points-of-Interest built in, including RV-specific, fueling, trails, attractions, campgrounds, etc. Thousands of parks and campgrounds including National and State parks with advance amenity details.


Speaks the turn-by-turn directions (loud and clear!)


Enhanced real-time warnings: includes sharp curves, steep hills, state borders, speed limits, construction, time zones, and more


Real-time camera input

. Switch view to an outside camera with one tap.


Fuel purchase log and trip-planner, including "Checklist" planner to ensure that your trip and RV are fully prepared.


Detour and reroute option - and automatically reroutes you if you miss a turn and uses proper trucking roads while getting you back on track.


Add or save locations or addresses to the professional grade address book.


Maintenance reminders counters, and odometers


Feed back and update by connecting to a computer. Send your roads, addresses, and point of interest ratings direct to Rand McNally!

Hardware Features included with the TND7730-LM:

7-inch color Hi-Def touch screen display GPS with large buttons and icons

Rechargeable internal lithium-ion battery

2.5mm
external camera
input (camera not included)

2 Watt LOUD internal speaker and an external speaker / headphone jack

SirfStar III GPS receiver (built in)

Rugged suction mount kit

USB cable to connect to a computer, 8-foot 12V DC power charger cable,

Quick start user manual
Rand McNally RVND 7730™
with free
lifetime maps,

free fast shipping

, and no sales tax

Note: This model has been discontinued


New sleeker design case and FASTER processor

Backup camera capable (sold seperately) (see camera pages at THIS LINK for more info)

RV Tools Screen - includes campground and park info plus the RV'ers checklist!

On-screen weather and fuel prices when connected to any WiFi

Complete with large suction mount, AC and DC power cords and quick-start guide