For Automatic and in-motion systems, click here


The "VU Qube" Mobile Satellite TV system is here!
We have In Stock: Model V10.
(all units are new - not refurbished)

Model V10 Details:
V10 - manually find the signal when stopped with the remote control ($549) (price reduced!)
Power and cabling: The V10 uses a single coax cable for the channel signal and the power.
In-Motion and Automatic systems are at --> THIS LINK INSTEAD
(no sales tax on ANY ORDERS) - Canadian orders, please PHONE IN

Perfect for truck drivers and RV's


Works with Dish Network, DirecTV, Bell ExpressVU, or Free-to-Air receivers


Note: If you want HD (hi-definition) with VuQube then you have to use Dish Network


Note2: If you do NOT need HD and want the NFL package then we recommend using DirectTV as the provider.


Note 3: Canadians will find that Bell ExpressVu is the provider to use.


The First mobile satellite antenna built for semi trucks


Uses a remote control to manually point the Vu-Qube when stopped from inside the truck.


Innovative strength with a small foot-print


Feel more like you are at home and less like you are on the road.


Using the Vu Qube V10 Five Step Satellite Find, and FastFind Remote you will be locked on and receiving digital programming within minutes of turning on your satellite receiver and TV.
Use a remote control to set the elevation and rotation of the dish without even leaving your truck or rv
Enclosed in a weatherproof cube so that you can permanently and easily mount it on your rig
NO MORE setting up, raising and aligning a large dish system
Use your existing satellite provider (if you already have satellite TV at home.) Just activate one more receiver on your account!
It can pick up the signal for 360 degrees around your rig (if you are able to install it with 3-4 inches of it above the cab.) However, even if you have to install it flush with the roof height, you can still watch TV if your park the rig facing east, west, or north when you stop.
Some of our many installation pictures are show below. Click any picture to enlarge it. For the no-drill bracket to be used, the back of the truck needs to be a smooth surface. By enlarging the pictures below, you can see examples of both "bolted" and "no-drill" installs depending on the rig.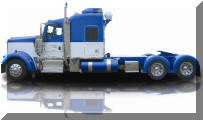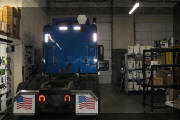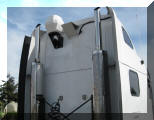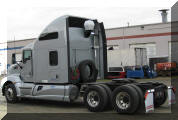 Installation available in Albany, Oregon (call us for pricing and appointment.)

<--------- The "NO-DRILL" bracket installation guide.
(Free Adobe Acrobat reader required to view.)
(shown above with bolt-on bracket)
"No-Drill" bracket also available See further pictures below on this page!

$549.00

How shipping is calculated in the cart. For expedited shipping or Canadian orders, please call in for quote