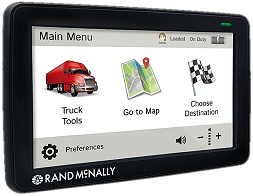 This page: 7" large, Color Screen
or

Expanded GPS info is at THIS LINK
New or Enhanced Features of the 730-LM model:


2015 Latest released maps and enhanced truck routing.

Slimmer, sleek casing, yet tough for the truck environment

FASTER route calculations, searches, and operation

New "Ice" and "Carbon" user interface options in addition to "Classic." New proprietary "color-saturated" icons making things easier to see "at a glance!"

Rand McNally Enhanced LANE GUIDANCE technology gives the driver visual advice along the way for the best lanes in complex highway and turning situations

IMPROVED map appearance showing more street names surrounding your location

TOLL COST estimates now shown while planning your route

Greatly INCREASED PHOTOREALISTIC JUNCTION VIEWS during road transitions and turns

Enhanced ROAD AND AREA AVOIDANCE technology allowing you to block out roads or entire areas easily

Enhanced MULTI-STOP trip planning showing upcoming legs and zoomable "whole-tip" or single-leg segments

New COMMERICAL BUS routing mode in addition to the Truck and Car modes

Automatic U.S. or METRIC conversion units depending on whether you are currently in the U.S. or Canada

SEARCH feature added to the on-board address book



Cameras for this GPS

Mounts for this GPS

Hardware Features included with the TND730:

Rechargeable lithium-ion battery

7-inch color Hi-Def touch screen display GPS with large buttons and icons

2.5mm external camera input (camera not included)

8GB of memory storage

2 Watt LOUD internal speaker and an external speaker / headphone jack

SirfStar III GPS receiver (built in)

Rugged suction mount kit, USB cable to connect to a computer, 8-foot 12V power cable, and user manual also included

Languages: English, Spanish, French

Map and Truck Routing Standard Features of the TND™ line:

Preloaded maps with truck routes and maps in the US and Canada


BIG Buttons and and easy interface to learn.


"Pop-out Exit Guide" displays the businesses and services at upcoming exits on your route!


Road work construction updates (free by connecting to a computer)


Built-in searchable National "Trucker's Friend" Truck Stop directory (with details for the locations)


Speaks the turn-by-turn directions (loud and clear!)


Enter destinations by address, city, intersection, lat/long, touch on map, or zip code


Create your truck profile restrictions (height, weight, length, width, doubles, triples, etc.)


HazMat - specific routing option


Multiple point routing (able to enter multiple stops) with "route optimization and compare"


Truck speed limits displayed while driving


Detour and reroute option - and automatically reroutes you if you miss a turn and uses proper trucking roads while getting you back on track.


Route avoidance option for tolls or specific roads when planning or detouring


Enhanced "Quick-planner" mode with load profitability predictor.


Add or save locations or addresses to the professional grade address book.


Driver hours of service tool that tracks your driving and on-duty hours for the day and the week.


Turn on various alerts (weigh stations, state lines, hours of service, maintenance due, etc)


Logs your mileage and fuel by state for company and fuel tax reporting (exportable to a PC)


Points of interest built-in, including extensive truck-specific points / simple searching!


Expanded truck services search (including truck washes, repair, and towing)


Feed back and update by connecting to a computer. Send your roads, addresses, and point of interest ratings direct to Rand McNally!
Click any picture below to enlarge
New "slimmer" case, yet built strong enough to handle life on the road!

"Junction View" screen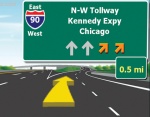 "Exit Services" screen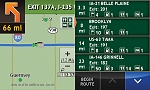 "Virtual Dashboard" includes a fuel purchases entry button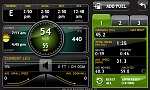 Complete with large suction mount, DC power cord, USB cable, and quick-start guide

Additional Features:

Fuel Purchase Log entry screen and state-by-state fuel purchases report.

Real-time camera input
. Switch view to an outside camera with one tap.

WiFi enabled. (can connect to nearby WiFi hotspots including drivers with cell phones WiFi hotspot broadcasting feature and associated data plan)

Record exact routes taken and view them back on the map (breadcrumb trails)

Assignable "hot button quick-press" feature on the power button. Assign a shortcut to your most-used function.

Current mile marker shown

Virtual dashboard shows new key info (speed, distance, altitude, ETA, more)

Real-time traffic compatible (* requires enabling the WiFi connection and a subscription through the TND Dock)

Free real-time fuel prices (* requires enabling the WiFi connection)

Enhanced warnings: includes sharp curves, steep hills, state borders, weigh stations, speed limits
<return to top>