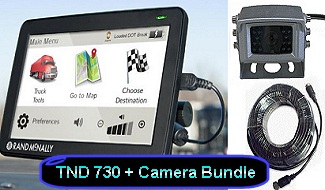 SAVE an additional

$25

instant rebate by purchasing them together here!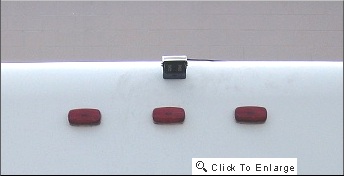 Shown above using the included screw-down mount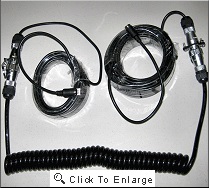 Optional trailer tow cable (left) / Included components (right)
---

Use your

Rand McNally TND730

as a camera monitor!


120 degree wide view fills the TND720 trucker's GPS screen with the one tap on the navigation screen and one tap back.

Waterproof, color, Sharp®

CCD lens, 420 TVL clear video image


Use in the passenger side blind spot, on the back of the truck or RV, or with the tow harness cable option to mount on the back of the trailer.


INCLUDES CLAMP-DOWN and BOLT-DOWN MOUNT. Mount is completely adjustable so that you can point the camera in any direction, any angle.


18 infrared LED's for up to 50 feet of night vision even in total darkness.


INCLUDES cigarette lighter 12V power plug for camera power, and 2.5mm wire needed to simply plug into the side of a Rand McNally model TND720 trucker's GPS


Optional trailer tow-harness allows you to mount the camera on the back of a trailer. Trailer tow disconnect cable allows for 36 feet on the truck side, 75 feet on the trailer side, and 12 feet of stretch cable connector between the truck and trailer.


Bolt-down AND clamp-arm mounts are included with every version regardless of whether the tow harness option is chosen.

TECH-TIP! Pre-measure your installation path so that you get the correct wire length. For example, getting from the GPS to a passenger outside mirror bracket will normally only need the standard 16ft easily. But mounting to the back of the rig for a flatbedder wanting to be able to view the trailer load or the back of a box truck will likely need the 36ft cable, etc.

Included hardware and specs:
- Sharp

®

CCD full color camera (420 TVL)
- Camera "ball mount" adjustable arm
- "Bolt-down" and "Clamp-down" attachments
- All necessary camera video and power cables