Big truck laptop computer stands, desks, and computer mounts for semi's, pickup trucks, and RV's are always here. As an authorized Ram Mount dealer, we provide the most rugged and functional laptop computer mounts and accessories for truckers, RV, and non-truckers alike.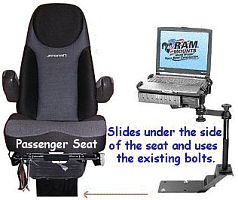 Vu Qube satellite TV antenna for big-trucks

Easy install, easy signal acquisition, weatherproof.
Works with DirectTV, Dish Network, Bell ExpressVu, or Free-to-Air!
Latest site news:

Rand McNally TND520 LM GPS - $299.99 with free shipping and lifetime maps


Our NEW FREE online IFTA fuel tax calculator site is now up HERE


PC Miler 550 - truckers GPS super-sale price reduction


NEW web-based Log Audit and compliance system


New camera system for TND 720 and Garmin 560 GPS models
Truck GPS - Rand McNally TND, PC*Miler Navigator, and CoPilot Laptop