Latest site news:



The NEW DieselBoss
DB5-HD
commercial grade dash / windshield cam is here!
(link)

ELD & AOBRD help. Your trusted source for tech info and advice for nearly 20 years! CLICK HERE FOR ELD and AOBRD HELP



DieselBoss multi-channel Truck DVR cameras systems - OVER $200 off
(
link
)

Winegard satellite TV (stationary) systems - additional $20 off
(
link
)

Winegard satellite TV (in motion) systems - up to $130 off
(
link
)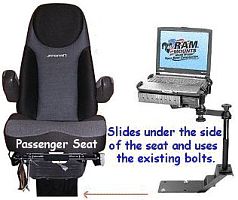 Big truck laptop computer stands, desks, and computer mounts for semi's, pickup trucks, and RV's are always here. As an authorized Ram Mount dealer, we provide the most rugged and functional laptop computer mounts and accessories for truckers, RV, and non-truckers alike


50% OFF ALL TRUCK SATELLITE BRACKETS WHEN ORDERED WITH SATELLITE UNIT!


Don't live with future regrets - Do it right the FIRST TIME
Truck and RV GPS - Rand McNally TABLET, TND, RVND and Copilot Laptop