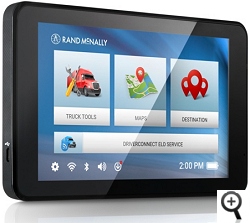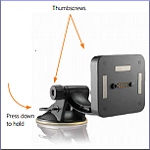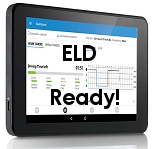 SEE MORE IMAGES FURTHER DOWN ON THE PAGE



This page shows:
5" large, Color Screen version 540-LM model
(also in 7" model here)
New or Enhanced Features of the redesigned 540-LM model:


2019 Latest released
U.S. and Canada maps
with
enhanced truck routing and LIFETIME MAPS


Multi-stop route planning with "compare" -
up to 50 stops can be planned into one route. Display upcoming legs and zoomable "whole-tip" or single-leg segments

FREE CONNECTED* features include real-time "traffic everywhere" service, local business search, real-time fuel prices, and real-time weather! (* connected features require a wi-fi connectioin to your phone, router, or hotspot device)


Enter destinations by address, city, intersection, lat/long, touch on map, or zip code

Also includes driviing
modes for busses and light-trucks/cars
as well.

Built-in Wi-Fi now for live
over-the-air updates
without needing to connect to a computer wire* (can connect to nearby Wi-Fi hotspots including drivers with cell phones Wi-Fi hotspot broadcasting feature and associated data plan)

Slimmer, sleek casing, yet tough for the truck environment

Lightning Quick Quad-Core processor provides FASTER route calculations, searches, and operation through its Android-powered operating system

Double the onboard storage capacity (16 Gb)

Higher resolution, brighter and clearer screen than ever before

Pre-loaded with the Rand "Driver Connect" ELD logging app so it is
ELD ready
when you add a Rand ELD to your truck ECM port. Stores 6 months of logs and inspection reports on your Rand cloud portal.

Powered Magnetic Mount
for fast and easy placement and removal in the truck

OVERHAULED map appearance with large icons and easy to read streets

Auxiliary-Out jack on the magnet mount to connect the GPS audio to your truck stereo speakers (uses 3.5mm aux wire)

Enhanced ROAD AND AREA AVOIDANCE technology allowing you to block out roads or entire areas easily

Search truck stops by their amenities - new Exit "Quick-View" shows the services at each upcoming exit!

Cross-reference matches on the GPS screen matches up to your Rand Motor Carrier Road Atlas

Create your truck profile restrictions (height, weight, length, width, doubles, triples, etc.) - includes HazMat routing too
Additional Features:

Fuel Purchase Log
entry screen and state-by-state fuel purchases report. Automatic
state miles logging for IFTA.

Rand McNally
Enhanced LANE GUIDANCE
technology gives the driver visual advice along the way for the best lanes in complex highway and turning situations. INCREASED PHOTOREALISTIC JUNCTION VIEWS during road transitions and turns

TOLL COST estimates shown while planning your route

Searchable onboard address book
to hold thousands of your personal customers and stops

Record exact routes taken
and view them back on the map (breadcrumb trails)

Current mile markers shown as you go

Automatic U.S. or METRIC conversion units depending on whether you are currently in the U.S. or Canada

Virtual dashboard shows new key info (speed, distance, altitude, sunrise/sunset, ETA, more)

Enhanced warnings: includes sharp curves, steep hills, state borders, weigh stations, speed limits

Speaks the turn-by-turn directions (loud and clear!)


Detour and reroute option - and automatically reroutes you if you miss a turn and uses proper trucking roads while getting you back on track.