Our latest and best yet! We took all of your suggestions and rolled them into one, new super-cam!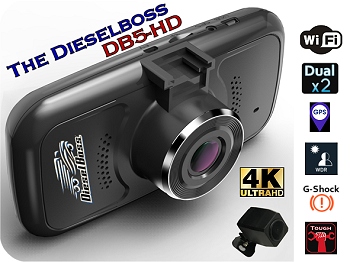 Choose "SINGLE CAM" or "DUAL" version at checkout
FREE 64 gb CARD is INCLUDED! (expandable up to 256 GB!)

NIGHT-TIME NOTE: Both cameras operate very well in low light with HDR technology, but still require some form of light to record images (headlights, street lamps, moon, license plates, etc.)

PERFECT for school and passenger bus drivers to record forward and passengers too!

What's Included:

Main body High-Def (4K/2K/1080p) HD windshield camera with suction mount

Secondary Standard-Def mini cam with 20ft cable (OPTIONAL, if ordered)

8ft long 12v cigarette jack power cord (not shown)

USB to mini-USB computer connecting wire

64 Gb Class 10 high-speed mini-SD card with adapter unless larger card is chosen

Free mobile APP (Android / iOS) for wireless connection, playback, and backups

Extensive tech manual instructions and lifetime support. (download -->
HERE
if you have lost your guide)

Download and save the DB5-HD cam brochure PDF file by clicking here

Specs and Features:

Up to Ultra-High Resolution
(2880x2160 FULL 4K Sony Lens with WDR!)
video and audio recording (24 - 120 fps!) 170° wide view main cam with H.264 compression MP4. (Also is a 12 MP still camera when needed!) This is the best windshield and dash cam ever designed for truckers on the market.

Optional 1080P Interior/Exterior 2nd Camera:
A second optional waterproof camera includes 20 feet of cable for mirror or rear mounting, or record the interior driver cabin for example. (140° / 1080p / Sony / ip67)

Eight video size modes!
2880x2160 (UHD-4K, 24 FPS), 2560x1440 (QHD-2K, 30 FPS), 1920x1080 (FHD, 60 FPS), 1920x1080 (FHD, 30 FPS), 1920x1080 X 2 (FHD, 30 FPS dual cam only), 1280x720 (HD-720P, 120 FPS), 1280x720 (HD-720P, 60 FPS), and 1280x720 (HD-720P, 30 FPS)

4.0" vivid color IPS video screen built-in with on-screen menus and large, rugged buttons

Seamless video: Record 3, 5, or 10-minute segments and have it loop over when card is full (see chart)

Time, date and GPS Location are optionally stamped on the video itself.

Recording starts automatically when you turn on power to the vehicle (12V socket) and turns off when you remove power unless you plug it into an "always on" socket in your rig.

Records on a Micro SD memory card (64GB card included, expandable up to 256GB!)
Note: Higher Quality and higher frame-rate settings use up space more quickly.

Built-in rechargeable battery allows for up to about 20 - 30 minutes of recording when unplugged.

Free Android & iOS app allows you to remotely connect to the camera
and playback or download your videos (Playback and download can also be done on a computer using the included USB Cable.)

G-Shock emergency sensor recording.
(English, French, Spanish, Russian languages supported)

Rugged, suction style mounting for easy removal and relocation.