Compact 12-volt dc to 120-volt AC car and truck power inverters
(NOTE: we also do inverter installs of any size at our shop in Oregon)

Option 1 - 400 watt Power Inverter


(has 2 120V plug-in sockets PLUS one USB socket)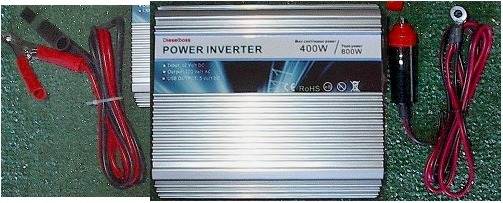 400 watt dual socket truck or car power with bonus USB charging port

Only $29.95 for 400 watts Dual Sockets PLUS USB!

$9.95 US Post Priority fast priority shipping is added during checkout for 2 - 3 day delivery anywhere in the U.S.
No sales tax
Canadian orders please phone in
Includes
DC cable with clips (to connect direct to battery or internal wiring) (3ft)
DC cable with lighter plug (to plug into existing vehicle 12V sockets) (3ft)
Product Features
Portable power for AC products rated up to 400 watts
Two AC receptacles for connecting multiple loads
One USB receptacle for MP3 players, GPS, etc
Small Profile for easy storage
LED indicator and On/Off switch
Protection Features
Overload and over temperature shutdown
Over voltage protection (15.0 VDC)
Low voltage shutdown (10 VDC)
Product Applications
Household applications: small appliances and portable work light
Entertainment electronics: video game console, TV's, and stereo
Office equipment: desktop computer system, laptop, printer and fax
Specifications:

Continuous AC output power

400 watts

Maximum AC output surge power

800 watts

AC output voltage

110 VAC

AC output frequency

60 Hz +/- 2 Hz

AC output waveform

Modified sine wave

Efficiency

>90%

Battery drain with no AC load (at 12V input)

<.3 A

DC input voltage range

10 – 15 VDC

USB Output Voltage
5V

Dimensions (H x W x L)

2" x 5" x 5.5""

Weight

1.8 lb (.8 kg)
Option 2 - 150 Watt Power inverter


(has 1 120V plug-in socket PLUS a USB socket)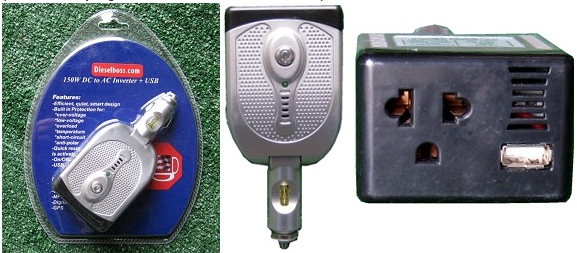 150 watt vehicle power inverter with USB charging port
Only $18.95 for 150 watts plus USB!

$5.49 US Post Priority fast shipping is added during checkout
No sales tax
Canadian orders please phone in
This convenient vehicle power inverter plugs into any 12V socket in your car or truck and converts to AC voltage for powering your devices.
Example for uses:
RETURN to the Accessories Page