Winegard stationary automatic-finder Truck and RV systems.
Pathway X1 and G2-Plus models for Truck and RV (or tailgating)





Mobile Satellite TV for the Long-Haul! Built tough and dependable specifically for truckers.
100% automatic = no dish pointing! Smaller / Lighter / Ruggedized for trucks!
Model Differences:

"Pathway X1" truck mountable, stationary automatic (Truck and RV version)

- Automatically finds your service provider TV signal when stopped. (FOR DISH NETWORK customers ONLY)
"Carryout G2-Plus" truck mountable, stationary automatic (Truck and RV version)

- Automatically finds your service provider TV signal when stopped. (FOR DIRECTV or DISH NETWORK or BELL ExpressVu customers)
Power and cabling:
X1 (Dish)
includes the coax cable and no other connection is necessary if using the correct receiver models.
The G2-Plus (DirectTV or Dish or Bell)
includes the coax and a small power "injector" box to plug into 110 volts for power
X1 (Dish) connection diagram G2-Plus (Dish, DirecTV, or Bell connection diagram

All mounting options are sold separately at -----> this page.
(no sales tax on ANY ORDERS) - Canadian orders, please PHONE IN

Perfect for truck drivers and RV's. RUGGEDIZED internal components with 2-year warranty


Works with Dish Network, DirecTV, and Bell ExpressVU, receivers (depending on model)


Note 1: If you want HD (hi-definition) mobile satellite TV, then you must use Dish Network as your provider.


Note2: If you do NOT need HD, are already a DirectTV customer, or if you want the NFL package then we recommend using DirectTV as the provider.


Note 3: Canadians will find that Bell ExpressVu is the provider to use.


RAPID AUTOMATIC pointing when you are stopped -. No manual pointing.


Feel more like you are at home and less like you are on the road.


MADE IN THE U.S.A. - Two year parts and one year labor warranty!
INSTALLATION NOTES!
To be able to see 360 degrees around the vehicle, you must install high enough that the top of the dome can see the sky. (preferably 5 inches of it above the roof.) The further north that you go, the more critical that the height becomes. See THIS DIAGRAM for height recommendations. If you cannot leave the recommended portion of the dome above the truck, it can still be used, but the signal may be blocked by a roof or other surface that prevents a clear view of the southern sky at that time.
Installation of the unit is different on every truck, so call us if you have any questions prior to purchase. We are here to tell you the best ways to do it!
For our exclusive "no-drill" style of bracket instruction sheet, click here (no drill brackets can only be purchased in person at our Oregon shop)
Additional items that you need to have to watch TV:
A Subscription to service provider (i.e. DISH Network, DIRECTV, Bell ExpressVu)
Satellite TV receiver (provided by the satellite tv company you subscribe to or purchased with the unit above.) We recommend the H24 receiver or the HR24 DVR receiver with this unit.
Television or the ability to connect a TV signal to your a computer or monitor that has TV input.
Mounting bracket (if you are going to mount it.) Remember that these units can simply be set out and not mounted too. That is easy to do on a camping or tailgating trip, but not so easy in a truck stop.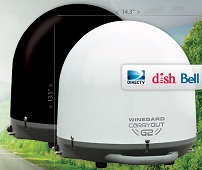 DirecTV customers need to
READ THIS NOTE
about their lease policy on new receivers please.
(Bracket not included unless ordered. For various bracket options, see --->
THIS LINK
Included with purchase:
X1 or G2 Winegard dome antenna
All wiring and power switch cables, including the coax cable (Mounting Bracket not included unless purchased separately)
Installation and operation guide
2yr parts / 1yr labor factory warranty!
OPTIONAL RECEIVERS: The "Dish Wally" can be bundled here with the X1. The DirecTV H24 or HR24 (DVR) receiver can be bundled here with the G2 model.
Specs & Dimensions: (NOW smaller and lighter than ever!)
Installation available in Albany, Oregon (call us for pricing and appointment.)
30 coax cable (included)
Dome is only 13.5" high x 14.3" diameter
Weight is only 12 lbs
Works with the DieselBoss no-drill or bolt on brackets
Can be flat roof-mounted or portable too for RV'ers and tailgaters!