The DieselBoss DRIVER & EQUIPMENT DATES Spreadsheet!

Now you can keep track of all of your reminders in one place for all drivers, equipment, and DOT requirements!

IMPORTANT! You must have Microsoft Excel® 97 or Higher installed on a WINDOWS computer for this spreadsheet to function! This program is found on the Microsoft Office® CDROM or purchased separately from Microsoft. It contains VB macros so it DOES NOT WORK ON MACS.
How it works:

You enter the driver name or equipment description

You then enter an event that has a specific date

Then you enter the date that the event will expire on

This simple form will compare the date on your computer to all of the dates in your compliance tracker and will turn the cells RED that are showing you events that become due!

Track up to 1000 drivers and 1000 pieces of equipment!

Track up to 7 different events or evolutions for each driver or equipment!

Track multiple companies, multiple pieces of equipment, and multiple DOT driver requirements

The database is sort-able at any time

Unlimited years of service - no further purchases


Click the first image below for "Equipment View" and the second one for "Personnel View" examples: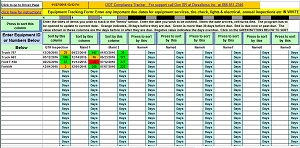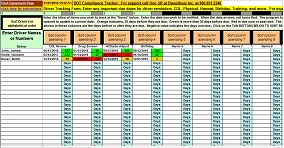 Instant download for MS Excel (nothing is sent in the mail)
DieselBoss Driver PLUS Equipment Date Compliance Tracker Spreadsheet

Only $19.95 (one time)
reusable forever

you will get a download link in your email immediately after purchase. It is very small - no need for high-speed internet
Instructions: at the conclusion of your checkout, you will see a download page on your screen and a link in your email with instructions to get the program.
1. Save
time

2.
Give you
one location to track
all of your assets with events that have expiration dates.
3. Keep you from
incurring fines
levied upon your company for some types of delinquent events that expire.
Examples

Truck and trailer maintenance

Driver scheduled appointments

Driver qualifications or license renewals

Equipment inspections

IRP Renewals

ANYTHING that has a recurring date renew
Click HERE to send mail concerning our programs